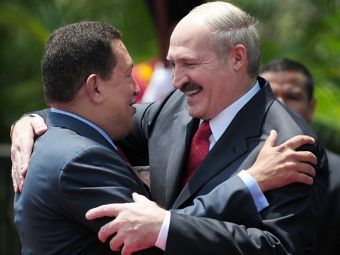 October has been a busy month for Belarusian strongman Alyaksandr Lukashenka. First there was a trip to China to sign a deal for billions of dollar of export credits, then on October 16 he hosted Venezuelan President Hugo Chavez, who promised to provide Belarus with a steady stream of oil.
As his relations with Russia have soured, President Lukashenka has been scouring the globe for new allies who can pour cash into his country's moribund economy and provide a bulwark against Russia.
On the surface, growth numbers in Belarus have been impressive so far this year, with GDP up 6.6% in the first three quarters. Meanwhile, the International Monetary Fund has revised its full-year growth forecast up to 7.2%, with inflation set to continue hovering around 7%. But the strong growth is built on sand.
Belarus has been spending heavily to prop up its economy, and without new foreign investment the government will have to turn once again to international debt markets to fund spending. With debt markets buoyant, Belarus should be able to raise the money to finance its growth in the short term if it pays a high enough price, but this is not sustainable, warns Lucas Romriell, head of sales at BG Capital. "The sooner the government realises this, the better. They need to start selling assets and liberalising their economy," he adds, arguing that there is almost no viable industry in Belarus.
Lukashenka announced in mid-October that the government would issue up to RUB15bn ($500m) of five-year bonds in Russia by the end of the next year, while Finance Minister Andrei Kharkavets said Belarus should seek to tap international debt markets once a year. The country issued a $1bn Eurobond over the summer.
Belarus has relied for years on receiving oil and gas from Russia at reduced prices, which they would either use domestically or sell on in the form of higher value goods such as fertilizer and diesel. However, that model has broken down since the Russians drastically cut the amount of oil it supplied duty free and raised the price of gas. "Some people thought that Belarus survived the financial crisis quite well, but the problems are building: there are huge backlogs of inventory at the state-owned companies," warns Romreill, who says rumblings of political discontent will get stronger if the government can't guarantee state jobs.
Lukashenka is now courting foreign investors to step into the yawning gap left as Russia withdrew its support. Europe and the US have shied away from investing in Belarus because of Lukashenka's reputation as the last dictator in Europe; China and Venezuela, however, have no such qualms.
Chinese fortune cookies
On his visit to Beijing in early October, Lukashenka agreed a package of loans worth $15bn - equal to almost half of the country's annual GDP. The first $3.8bn of projects have already been finalised and Belarus aims to sign off on a further $7.2bn worth of projects by the end of the year.
First in the pipeline is a $1bn pilot project for a white goods manufacturer. That could provide China with a manufacturing base on Europe's doorstep and give Minsk a chance to reclaim the status it once had as the Soviet Union's top white-goods manufacturer.
The Chinese are also pouring money into real estate and transportation to revamp Belarus's capital. The mayor of Minsk, Mikalai Ladutka, said the Chinese plan is to build a Canary Wharf-style office, residential and entertainment complex called Minsk-City. More loans will be used to revamp Minsk's transport system and electrify railroads in the Homel and Mahilyou region, with China set to supply electric trains and participate in the construction of an industrial park and two electric power plants.
Lukashenka said October 15 that Chinese money would also be used to fund the modernisation of Belorussian oil refineries and bring them up to international standards, presumably with an eye to processing oil supplies from Venezuela.
Venezuelan President Hugo Chavez visited Belarus on October 16 and declared his intention to keep Belarus supplied with oil for the next two centuries, although he stopped short of saying how much oil he would supply and at what price. "Venezuela has the largest oil reserves and Belarusian oil refineries will not be short of oil for 200 years," Chavez was quoted by Interfax saying.
Watching how Chinese investment in the country unfolds over the next year will be interesting. China has a track record of building new factories and roads by shipping in Chinese workers and using home-grown companies. In Africa, these projects provide fewer local jobs than some governments had hoped. "China might be investing in Belarus because they think they will have more autonomy than they would get in more western countries, but that could all end in tears. Belarus wants to keep state jobs secure," says Romreill.