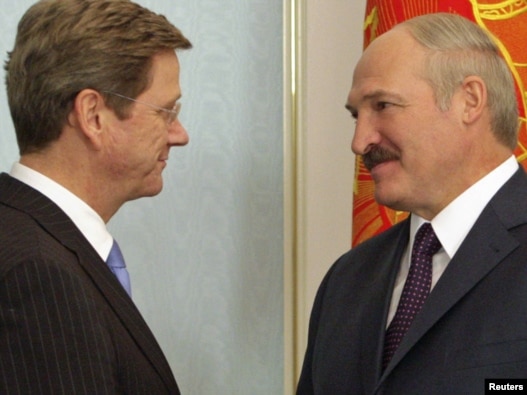 By Jan Maksymiuk

Belarusian state-run television has begun to regularly broadcast messages that the current head of state is a dictator, the national economy is in shambles, the country has had no real elections since time immemorial, and that President Alyaksandr Lukashenka is on the verge of fleeing to his friend Hugo Chavez in Venezuela.

A joke? A showy way to commit mass suicide by the television management?

Neither.

There is a presidential election campaign in full swing in Belarus. Nine opponents of the incumbent president have been given two half-hours of live uncensored airtime on state television and radio respectively to present their programs and speak out against Lukashenka. They may be accused of slandering state institutions or officials and consequently removed from the race but this was a calculated risk that any of them needed to consider for himself in advance.

By virtue of the election law, Lukashenka, who is running for his fourth term, can take advantage of this election privilege as well. But, as in former presidential campaigns, he has chosen to ignore such appearances.

Instead, he appears on state television and radio almost ceaselessly as the president in office and says what he thinks about his adversaries whenever he feels an itch to do so. And he is quite sure that his challengers evidently lack screen appeal, having been allowed just an hour of free television time every five years in the past decade.

"They demanded live television broadcasts. They were given them. But today their campaigners and ideologists openly admit that it would be better for them to avoid being live on television," Lukashenka told his campaigners on November 29 in order to alleviate their fears that the alternative candidates could do any tangible harm to his reelection chances.

"They thought that they would show themselves on the screen as big orators, that they would say a few words and send people running to vote for them. It turns out that this is not so simple."

Playing To Brussels

Lukashenka is in his worst row with the Kremlin in his entire presidential career. To outweigh a massive defamation campaign from Moscow, he urgently needs to mend fences with Brussels.

Early this month Brussels sent two messengers to Minsk, Poland's Radek Sikorski and Germany's Guido Westerwelle, who imparted some good news to Lukashenka. If he holds an election that Brussels can accept as democratic, the European Union will disburse 3 billion euros ($3.9 billion) from its coffers to support his regime.

For the time being, Lukashenka seems to be behaving in line with Brussels' expectations. The Central Election Commission registered nine challengers to Lukashenka without any problems, even though some commentators raised objections as to whether all of them actually collected the 100,000 signatures required for registration.

And now Lukashenka tolerantly suffers what his contenders say about him and his rule on state television and radio. Just a few examples:

Vital Rymasheuski: "Our authorities respect only one position -- that of power. We intended to elect a president but we elected a tsar who cares only for his sons and for how to stuff the pockets of his clerks with money."

Mikalay Statkevich: "As soon as they start counting votes, they will order the observers to move 10 meters away and stay there, or otherwise the police will take care of them. Pardon my saying, but the observers can watch only their own butts. And afterward, they will announce their results."

Andrey Sannikau: "Just imagine: It's December 20, we have won. The dictatorship is a thing of the past. And Lukashenka has fled to Venezuela on his personal plane. Millions of people are on the streets. They shout 'Hooray! Long live Belarus!' And all of this is live on Belarusian television. We have waited for this victory for 16 years. And this day has come at last!"

Yaraslau Ramanchuk: "I brought two potatoes with me to the studio. One potato is from Belarus, the other from Morocco in Africa. The most interesting fact is that the foreign potato is half the price of ours. In quality they are similar but their price is different. This shows the efficiency with which we use our land and how our agricultural sector works."

Uladzimer Nyaklyayeu, who is believed to be the strongest challenger of Lukashenka, is a Belarusian poet. Therefore, it is no wonder that he used his campaign appearance on television as an opportunity to quote from his writings. The following unlovely four-liner (rendered lightheartedly into English by your author) clearly alludes to Lukashenka's habit of roller-skiing in summer:

I am on the asphalt
but I cannot glide.
Are my skis lazy?
Or am I out of my mind?

This seasonal outburst of democracy in Belarus has even produced a rehearsal of the popular revolution that his contenders want to launch on October Square in Minsk on December 19, immediately after the closure of polling stations.

Just 1,500 people turned out for the revolution rehearsal on November 24. This does not bode too well for the upcoming premiere. However, the most striking feature of this rehearsal was not its turnout but the transmission of the Belarusian opposition's appeal to Belarusians to take part in the rehearsal on November 24 and the opening night on December 19 by Russian television's First Channel in its prime-time newscast.

Thus, in this election campaign Brussels seems liable to prop up the Lukashenka regime with recognition and money, while Moscow is working to undermine it. And Hugo Chavez is extending his helping hand to Alyaksandr Lukashenka across the ocean by regularly sending him tankers with Venezuelan oil to make up for reduced Russian supplies. And Viktor Yanukovych, Moscow's best friend in Kyiv, is helping Lukashenka transport Venezuelan oil from tankers mooring at the Odesa oil terminal to Belarus and to lessen Russian economic pressure on someone who once was Moscow's best friend in Minsk.

We are living in postmodernist times when, as the saying goes, the media validate reality. What we see in Belarus now is a reality validated by a B-movie comedy. Once this comedy is over, a grimmer movie is likely to catch our attention.