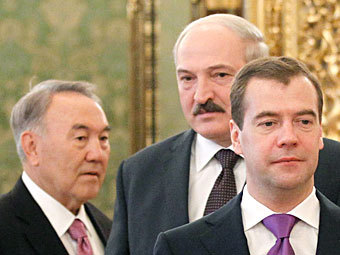 The Eurasian Economic Community (EurAsEC) appears to be making progress: its economic foundation – 17 agreements on the Common Economic Space (CES) - has been established and its supranational organs have been formed. The prospects of this
integration project, however, are not so evident according to Tatiana Manionak from the Agency of Policy Expertise.
While the CES and WTO do not contradict each other, particularly as the CES is built upon WTO principles, it is the different speeds of accession to the WTO by EurAsEC members – Russia, Kazakhstan and Belarus – that will present a major problem in moving further.
Russia plans on joining the WTO around August this year, and once it occurs, Belarus will have to harmonize its tariffs with Russia. Though not yet a member of the WTO, Belarus is required to lower the level of tariff protection from 10.7% to 8% for a number of goods in the next 7 years.
For example, according to official data Russia's reduction of import tariffs for tractors and combine harvesters by 5-10% will result in a fivefold increase in imports. This will mean an increased arrival of agricultural machinery by European and American brands across all segments of the Russian market, which will heavily impact big Belarusian producers such as MTZ (Minsk Tractor Works) and Homselmash (Gomselmash).
Realising that Belarus' interest in protecting its market could become a serious impediment to the CES, and to the ambitious integration project overall, the Kremlin has agreed to support Belarus in its early entry into the WTO. On December 19 the two countries signed a memorandum that emphasises the preferential nature of bilateral trade in goods and services, including in the framework of the Union State, CES and the CIS. However, it is the interstate agreements, signed by "troika" in 2011, and not the memorandum, that is a priority for the Customs Union. And here WTO norms become a part of the Union's legal system. That said, Belarus and Kazakhstan will have to accept the conditions bargained for by Russia in joining the WTO.

However not all of the officials in Belarus agree with this. Here the architecture of EurAsEC supposes the discussion of the most sensitive issues at the level of presidents. Tatiana Manionak concludes that until Belarus becomes a member of the WTO, which is not even a serious endeavor yet, "troika" is likely to get caught up in the harmonisation of problematic issues.