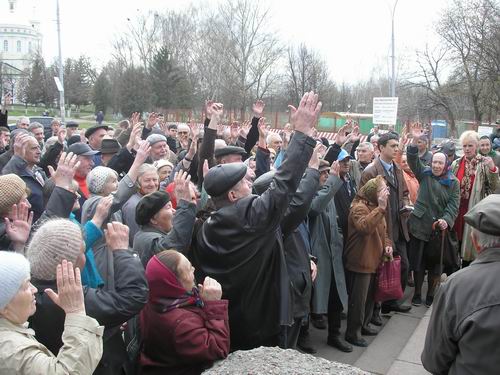 By Vital Silitski

Independent studies of public opinion in Belarus for many years have revealed the exact and typical structure of electorate of the incumbent president. Alyaksandr Lukashenka is the president of pensioners, women and villages. His electorate is concentrated among undereducated, declassed levels of population. The ideology and the policy of the state, fixed in a well-known slogan "bread and circuses", catered directly for this kind of electorate.

During one and a half decades, however, the social landscape of the country has essentially changed. Belarus has become more urbanized. Today it has one of the highest percentages of urban population in Europe (it is another question what Belarusian cities correspond to - whether they are more than just settlements for workpeople). The educational level of the population has increased (and critics will add – together with decrease of an educational level). Now we have the first generation that has grown up and remembers neither Soviet times no "a gulp of freedom" during the first years of independence. The standard of living during one and a half decades has certainly risen, in Belarus a consumer society began to be formed. As a consequence the state policy and rhetoric also changed, reformatting of the so-called social contract went on - the power made new accents, changed survival rhetoric to rhetoric of modernization, started to use glamour shine in a way it sees it. What it the result of it? Has Lukashenka found a new social base for himself?

The first thorough research of Lukashenka's electorate was made by Independent Institutes of Socio-Economic and Political Studies (then in Minsk) and was published in press and academic editions in 1998. [1] Then the research of Lukashenka's electorate showed three boundaries in Belarusian electorate: the most vivid is age (the level of support of the president differed among separate groups almost by four times), then education (almost the same difference between respondents with the higher and elementary education), then city-village boundary (the distance between Minsk and rural population is also a little bit less than four times).

And what is now? Giving dues to our colleagues from IISEPS, we will try to answer this question proceeding from the data of our own research that was carried out in cooperation with the partners from BISS in February 2010. [2] It should be noted that general rating of Lukashenka according to data of independent centers again ranges between 35 and 45 percent of the whole electorate, which was also typical for the late 1990s (later in 2003 it fell down to 26 percent and rose up to 60 percent in 2006 - these cycles were distinctly connected with either improvement or deterioration of the economic situation in the country and either increase or fall of degree and intensity of official propaganda).

At first we will note the fact which for twelve and a half years has not changed at all and was common for both polls. The difference in support of Lukashenka between women and men has not changed (but it is necessary to assess this fact cautiously - women in Belarus live longer, and among them there are much more people of elderly age). The basic "age" boundary has almost remained the same, and again we see the tendency of a relative increase of Lukashenka's rating among the youngest Belarusians, its sharp falling when a person "is released" from indoctrination of schools and Universities and starts an independent life, and a new growth together with retraction of a respondent into "the social contract".

As to the age, we decided to make one experiment - to compare a level of support of the power among separate social groups with time "lag" - that is to compare those who in June 1997 were 30 years old with those who in February 2010 were 42. The result is very significant. The quite young who grew up and had, so to say, to "build their life" during Lukashenka's times were mostly disappointed in the president. Then there is a growth of rating. First, among those who during these years have become Lukashenka's "middle class", secondly, among those who have come to or reached the pension age. We see that as a person touches this "ribbon" at the finish line of a productive life phase the support of the head of the state starts to exceed the limits. And here it is possible to draw essential conclusions. Analyzing Lukashenka's support among the senior generation many observers connected it to the fact that the president is popular among "Stalin generation" who remembered and approved those methods which the president used to apply in his state policy. Now we see that the same level of support is recycled also by the generation of social leaders of perestroika time! Such tendency vividly shows the process of "rationalization" of social support of Lukashenka, which has actively been discussed by our colleagues for five years already. The motivation of a political choice (as well as other choices - economic, geopolitical) shifted from charisma and culture area to "Hamburg account". And the ability of the power to keep the social contract with basic electoral groups provides stability of its electoral base.

Speaking about stability, data proves that it is iron-hard among pensioners (and we already speak about the second generation of Lukashenka's pensioners). During 12 year this electorate, the most numerous and most "active at voting", has remained practically invariable (people in this group have changed but not their social roles). The further we proceed the more interesting the changes in the structure of Lukashenka's electorate become, and it is necessary to analyze them separately. There is a  considerable decrease of support of the president among "working class", civil servants of lower rank, rural population and people with secondary education - that is, the groups which are "bones and meat" of the existing political system, its economic model. In general, the difference between a city and a village concerning the support of Lukashenka has essentially reduced, and almost the most visible change for 12 year has become almost double increase of Lukashenka's electorate in the capital of Belarus, where the associates of the president are no longer marginal people relative to their environment.

We also see that Lukashenka has managed to keep or even to increase the support among highly educated levels of population, and even more - among those who may be called Belarusian elite – a leading class of managers, directors, chiefs. The policy of renewals of the social contract with the officials, providing a bureaucratic class with new possibilities for enrichment and "bourgeoising" has born their fruit too.

Thus Lukashenka has kept social lower strata, has acquired upper strata but has started to lose "the middle". A conclusion is simple - the power during 12 years has expanded its network of the social clientele in the society, effectively "recruited" as Loyalists those groups that have coursed headache during the last decade (Minsk inhabitants who took to the streets in thousands, the nomenclature). The formula of Lukashenka's stability of the last decade is double tactics of maintenance of basic electorate, of those who will surely give their voices (pensioners) and neutralization of socially active groups capable of revolutionary actions. The cost of this stability is a relative disappointment of those who have paid for it during the last decade. This state of affairs makes clear a "home task" for the power when it tries to keep this stability and a "window of possibilities" for its opponents.
Table 1. Socio-economic structure of Lukashenka's electorate, (per cent)
| | | |
| --- | --- | --- |
|   | Would vote for Lukashenka if presidential elections were next day, June 1997* | February 2010. |
| Total | 45,4 | 39.0 |
| Gender |   |   |
| Men | 39,8 | 33.3 |
| Women | 50,2 | 43.7 |
| Age |   |   |
| 16—19 | 31,7 | 29.6 |
| 20—24 | 30,4 | 14.7 |
| 25—30 | 19,7 | 28.6 |
| 30—39 | 29,3 | 22.8 |
| 40—49 | 40,1 | 26.5 |
| 50—59 | 48,6 | 42.1 |
| 60 and more | 81,7 | 73.3 |
| Education |   |   |
| Elementary | 88,2 | 88.8 |
| Secondary | 54,3 | 34.1 |
| Specialized secondary | 35,6 | 33.2 |
| Higher | 24,6 | 26.8 |
| Activity Status |   |   |
| Head of enterprises and firms, managers | 21,6 | 33.3 |
| Specialists | 29,4 | 27.4 (24.7)* |
| Civil servants of lower ranks | 31,4 | 15.6 |
| Skilled workers | 32,6 | 23.7 |
| Unskilled workers | 46,7 | 35.0 |
| Pensioners | 77,9 | 74.2 |
| Students | 32,9 | 24.7 |
| Housewives | 46,1 | 21.7 |
| The Unemployed | 30,3 | 10.0 |
| Place of Residence |   |   |
| Minsk | 17,5 | 32.1 |
| Regional center | 35,8 | 37.3 |
| City | 38 | 36.1 |
| Town | 40,2 | 35.1 |
| Village | 69,9 | 50.0 |
* Specialists of technical and humanitarian profiles correspondently.
Table 2.Support of Lukashenka among age groups "with time lag"
| | | | |
| --- | --- | --- | --- |
| Age | 1997 |   | 2010 |
|   |   | under 27 | 23.5 |
| 16—19 | 31,7 | 28-31 | 22.6 |
| 20—24 | 30,4 | 32-36 | 21.7 |
| 25—30 | 19,7 | 37-41 | 30.2 |
| 30—39 | 29,3 | 42-51 | 28.3 |
| 40—49 | 40,1 | 52-61 | 46.3 |
| 50—59 | 48,6 | 62-71 | 71.1 |
| 60 and more | 81,7 | 71+ | 81.0 |

1] Data are according to Aleh Manaeu's article "Alyaksandr Lukashenka's Electorate", which appeared in "Belorussia and Russia: Societies and States" (Moscow: Human rights, 1998), and was also published by Belarusian Business Newspaper in March 1998.
[2] The study "Belarus and the world" was carried out in February 2010.