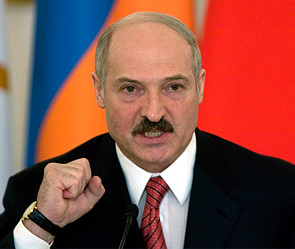 The measures undertaken by the authorities proved that the policy pursued by the EU of a 'cautious dialogue' with Belarus does not bring any results, writes Katarzyna Pełczyńska-Nałęcz in an analysis paper for the Centre for Eastern Studies (OSW).

The following commentary was sent to EurActiv by Katarzyna Pełczyńska-Nałęcz of the Centre for Eastern Studies (OSW).

"The fourth consecutive victory of Alyaksandr Lukashenka in the presidential election held on 19 December 2010 was no surprise for anybody. However, few expected the wave of brutal repression that followed the election and resulted in several hundred people being arrested, including seven opposition candidates.

The measures undertaken by the authorities proved that the policy pursued by the EU of a 'cautious dialogue' with Belarus does not bring any results. These actions have revealed the essence of the Belarusian regime, and the limitations and capacities of the Belarusian opposition, civil society organisations and Belarusian society in general. They also clearly show the priorities of Russian policy towards Minsk.

Uncovering and clearly detailing the lessons learnt from recent events in Belarus therefore would appear crucial for understanding what policy instruments the EU possesses in dealing with Belarus, to what extent they are effective and what results the EU policy towards Belarus can produce.

Zero tolerance for democracy

Lukashenka's policy after 19 December 2010 has proved that maintaining a monopoly on power is a top priority for the Belarusian leader and this will be sought even at the expense of Belarus' total political alienation from the EU.

On the other hand, the Belarusian regime seems ready for a certain degree of economic liberalisation and a tentative opening up of new opportunities for European business. This step would be intended to save Belarus from total economic dependence on Russia and to minimalise social costs engendered by deteriorating economic conditions (among other measures on 31 December 2010, Lukashenko signed a directive that aimed at establishing more favourable conditions for private business).

One of the premises of Lukashenka's policy clearly seems to be the conviction that cooler political relations with the EU do not have to be an obstacle to economic cooperation. This calculation may yet prove justified.

Slim chances of a unified opposition

The opposition in Belarus is unanimous in criticising Alyaksandr Luakshenka and his policy – particularly the recent acts of repression. However, it seems quite unlikely that the opposition will be able to use this potential to establish unified structures and undertake joint action. Differences in political programmes (such as the attitude towards Russia) and methods of political struggle, but above all animosities and personal ambitions, constitute an obstacle to establishing a common ground.

This deep divide was revealed not only by the fact that the opposition presented nine candidates for the presidential election but also by the positions taken by several opposition leaders after 19 December 2010. Right after the election, three of them (Jaroslav Romanchuk, Ryhar Kastusiou and Dmitri Us) criticised the organisers of protests, accusing them of excessive radicalism and being responsible for the bloodshed.

Many citizens, more subjects

Opinion polls conducted by independent organisations point out that support for Lukashenko appears to have been falling in recent years yet remains much higher than support for the opposition (respectively 30-50% and 15-25%).

Furthermore, even that part of Belarusian society which shows no sympathy for the dictator is largely passive. Active manifestations of disapproval towards the regime are visible mainly in Minsk and concern mainly those who are educated and young people (the figure of approximately 20,000 participants in demonstrations shows that this potential is quite large and remains at the same level as in 2006; however, it is smaller than in the 90s).

It is quite telling that except for in the capital there were no significant post-election protests and demonstrations of solidarity with those people who had been arrested. In Belarus there are, however, a relatively large number of civil society organisations that are independent from the government.

After the election these groups proved their ability to express solidarity in action, their initiatives included prompt aid provided to those who had been hurt or detained.

On 24 December 2010 a joint communiqué of the Belarusian platform Eastern Partnership Civil Society Forum, signed by 38 organisations, was published.

Russia: Support for Lukashenka

It cannot be excluded that the reaction of the Belarusian regime to post-election protests may have been linked to policy measures from Moscow. Just before the presidential election, Russia de facto pledged support for Lukashenko.

On 9 December 2010 agreements that established the Single Economic Space were signed. They allowed for the introduction of free circulation of goods, services, capital and labour in 2012-2015. Following these agreements Russia restored duty-free oil supplies to Belarus (which means savings worth USD two billion for the Belarusian budget). The deal was sealed after many months of intense conflict. Thanks to this 'suspension' of war with Russia, Lukashenko gained more confidence in his relations with the West.

Official communiqués coming from Moscow after the election also expressed support for the Belarusian dictator. President Medvedev deemed the election 'Belarus' internal affair' and expressed hope that as a result it would contribute to development of democracy and 'friendship among all neighbours'. In addition, the Commonwealth of Independent States observation mission, composed mostly of Russians, declared that the election was 'free and democratic'.

The EU: Lower expectations, more consistency

In the light of the lessons learnt from the last election, several conclusions regarding EU policy can be drawn:

1. As long as Alyaksandr Lukashenka remains in power in Belarus, the EU should not expect real democratisation in the country. It can, however, count on certain gestures (e.g. releasing prisoners) which will be aimed at bargaining some concessions from the EU.

In this situation the EU strategy should be based on the one hand on limited but specific demands (release of prisoners, legalisation of particular organisations) and on the other hand – on a consistent use of sanctions combined with meeting these demands.

Overly ambitious expectations such as holding democratic elections, respecting freedom of speech (these demands were included in a EC document dedicated to Belarus of November 2006), and lifting sanctions 'in advance' in the hope of improvements, dooms the policy of conditionality to failure and calls the EU's credibility into question.

2. Even quite far-reaching sanctions (e.g. those banning entry to the EU and freezing assets on bank accounts) will not heavily affect the ruling regime. Paradoxically, despite cooler relations with the EU, Lukashenka stands a chance of obtaining from EU member countries what he needs most – investments and loans (if partial economic liberalisation in Belarus opens up new opportunities for European business, it will not hesitate to seize them).

The sanctions, however, would be of significant importance, both symbolically and in terms of public image. The EU would thus demonstrate that ignoring the demands it puts forward does not go unheeded.

3. Activities aimed at Belarusian society can prove much more effective. Although a unified opposition cannot be expected, in Belarus there are partners for such a policy – relatively numerous and effective civil society organisations.

However, grassroots activities require not only money but also well-adjusted and flexible ways of operating (including the ability to avoid disclosing the beneficiaries and support for unregistered organisations).

The European Neighbourhood and Partnership Instrument, which is the major financial tool aimed at the countries involved in the Eastern Partnership, including Belarus, does not grant such possibilities yet.

Furthermore, with the support for Lukashenka remaining relatively strong, the policy towards Belarusian society must be focused on the long term – it would be naïve to believe that it will come to fruition quickly and in an easily discernible way.

4. Finally, regardless of how much the EU seeks to avoid a head-on collision with Russia, the actions of the latter will serve to weaken the effectiveness of EU policy. The Kremlin's priority is not democracy or even ousting Lukashenka, who is an unpopular figure at the Kremlin, but maintaining Belarus within its own sphere of influences.

In order to achieve these goals Russia will, however reluctantly, back the Belarusian dictator, additionally by means of economic subsidies."