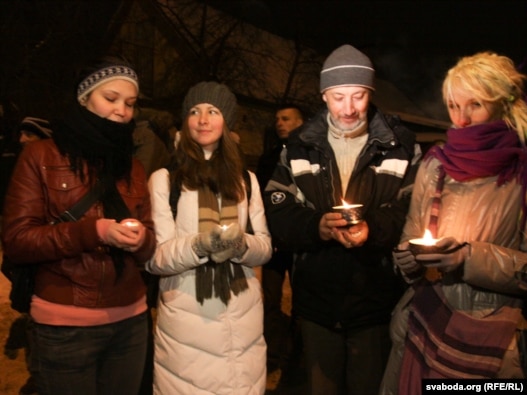 President Alyaksandr Lukashenka has further tightened the screws on Belarus's opposition after police broke up mass protests against his reelection. Belarusian authorities say they have jailed more than 600 opposition activists in the aftermath of the crackdown. The Interior Ministry said the activists were given sentences from between five to 15 days.


Opposition supporters held a candlelight vigil in front of Akrestsina prison in Minsk, where detained demonstrators are being held.

Five of the seven opposition presidential candidates arrested on December 19 remain in custody. Ryhor Kastusyou and Dzmitry Vus were released.

Justice Minister Viktor Golovanov said today that political parties associated with the protests in Minsk may be "liquidated."

U.S. President Barack Obama's spokesman Robert Gibbs said today that the United States "strongly condemns the actions that the government of Belarus has taken to undermine the democratic process."
Relatives of detained demonstrators check a list of prisoners outside a prison in Minsk. The European Union's top diplomat Catherine Ashton, meanwhile, called on the regime to "immediately release" the opposition leaders.
The European Union's top diplomat Catherine Ashton, meanwhile, called on the regime to "immediately release" the opposition leaders.

Kastusyou told a news conference following his release that he had been held by the KGB secret services and had been "interrogated toughly."

"When I was put into the cell around 6 a.m., my cellmates told me the prison had worked all night," Kastusyou said.

"Why was I detained? I can't give a definite answer, but I think to intimidate Belarusian society and crack down on the protest that unfolded on December 19. Our authorities don't have any other alternatives, I don't think they are capable of reacting in any other way."

Katsusyou said his interrogators let him go after he refused to publicly condemn his colleagues.

The five others remain in custody. They face up to 15 years in prison for "organizing mass disturbances."

One of them is 64-year-old Uladzimir Nyaklyaeu, who was beaten unconscious during the protest and subsequently snatched from his hospital bed by men in plainclothes.

"People in plainclothes burst into the hospital, they did not show any identity documents," his wife, Volha Nyaklyayeva, told reporters today.

"They pushed me aside, held my arms, and did not answer when I asked them who they were and how they had gotten here. While they were holding me, without paying attention to my screams, they grabbed Uladzimer Prokofyevich from his bed. Since he could not walk on his own, they threw him on a blanket and rolled him across the floor of the room."

Police Sweep

Presidential candidate Andrey Sannikau, who placed second after Lukashenka according to official results, is among those still in detention.

He and his wife, journalist Irina Khalip, were arrested on December 20 as they drove to a clinic to treat injuries sustained during the protest. Khalip was speaking to the Russian radio broadcaster Ekho Moskvy in a dramatic live broadcast at the time of the arrest.

Kastusyou told a news conference following his release that he had been held by the KGB secret services and had been "interrogated toughly."

"When I was put into the cell around 6 a.m., my cellmates told me the prison had worked all night," Kastusyou said.

"Why was I detained? I can't give a definite answer, but I think to intimidate Belarusian society and crack down on the protest that unfolded on December 19. Our authorities don't have any other alternatives, I don't think they are capable of reacting in any other way."

Katsusyou said his interrogators let him go after he refused to publicly condemn his colleagues.

The five others remain in custody. They face up to 15 years in prison for "organizing mass disturbances."

One of them is 64-year-old Uladzimir Nyaklyaeu, who was beaten unconscious during the protest and subsequently snatched from his hospital bed by men in plainclothes.

"People in plainclothes burst into the hospital, they did not show any identity documents," his wife, Volha Nyaklyayeva, told reporters today.

"They pushed me aside, held my arms, and did not answer when I asked them who they were and how they had gotten here. While they were holding me, without paying attention to my screams, they grabbed Uladzimer Prokofyevich from his bed. Since he could not walk on his own, they threw him on a blanket and rolled him across the floor of the room."

Police Sweep

Presidential candidate Andrey Sannikau, who placed second after Lukashenka according to official results, is among those still in detention.

He and his wife, journalist Irina Khalip, were arrested on December 20 as they drove to a clinic to treat injuries sustained during the protest. Khalip was speaking to the Russian radio broadcaster Ekho Moskvy in a dramatic live broadcast at the time of the arrest.

In a recording of that conversation, Khalip is heard saying that "a traffic police car is stopping us now" before pulling them out of their car, followed by screams as she describes what is happening.

"What are you doing?" she asks the presumed traffic police. "OK, OK, I'm standing like in an American action film. They pressed me up against the car. My husband is lying on the ground. Monsters! Bitches! Fascists! They're hitting me in the face! They're tying my hands behind my back.

Pushing Back

Despite Lukashenka's pledge to quash any show of dissent, activists and relatives of jailed demonstrators remain defiant.

RFE/RL's Belarus Service reports that some 200 people held a brief candlelight rally in front of the capital's Akrestsina prison, where most of those arrested are being held. Chants of "Freedom!" and "Long live Belarus!" were kept to a minimum as uniformed police stood by. Most of the protesters left after police urged them to disperse.

The Associated Press reports that several people passed bread and water to security guards in hopes that the items would reach loved ones inside.

The rally was part of a "campaign of solidarity" launched by the opposition to support those being held by police.

Kastusyou, the released presidential candidate, attended the candlelight rally. He searched a list of inmates provided by the jail hoping to find the name of his 22-year-old son, who had been detained.

His son's whereabouts remain unknown.

Also participating in the rally was Alyaksandr Milinkevich, the leader of Belarus '  opposition For Liberty movement and a 2006 presidential candidate.

At an earlier press conference, Milinkevich called on all democratic-leaning forces in the country to join the campaign.

"I appeal to all allied political parties and movements and civil organizations -- if you do not pay attention to these violations of human rights that have taken place so violently in our society, then you will not have freedom in the future," Milinkevich said.

Lukashenka, a former collective farm manager, has rulled Belarus with an iron fist since 1994.

In comments broadcast on December 20 on national television, he said any attempt to stage a "revolution" would be thwarted, adding that there would be no more "senseless democracy" in his country.

"Kids, you are messing with the wrong guy," he warned demonstrators.

A small demonstration later that day in the capital was disbanded within minutes, with police beating the activists and pushing them into police vans.

An official preliminary count of the December 19 vote handed the authoritarian leader a fourth term in office with almost 80 percent of ballots.

Independent polls ahead of the election, however, suggested Lukashenka's real support is much lower.

International observers and Western governments have described the election as "flawed" and condemned the ensuing crackdown on Lukashenka's opponents.

In a statement, the chairman of the U.S. Helsinki Commission, Senator Benjamin Cardin (Democrat-Maryland), called the detention of opposition candidates, activists, and journalists "deplorable."

U.S. State Department spokesman Philip Crowley said that with the marred election and the ensuing crackdown, the Lukashenka government had lost a chance to move closer to the West.

"Belarus and President Lukashenka may well never miss an opportunity to miss an opportunity," Crowley said. "Our sanctions will continue in place and it's tragic what has happened in Belarus. Respect for the democratic process and the human rights of its citizens [are] at the center of our relationship and our aspirations for Belarus."

In June, the Obama administration extended financial sanctions against Lukashenka and other Belarusian  officials for another year.

UN High Commissioner for Human Rights Navi Pillay joined the chorus of criticism, voicing concern over "violence against, and abduction of, opposition candidates and their supporters."

The Organization for Security and Cooperation in Europe condemned as "unacceptable" the police assaults and detentions of journalists during the postelection protests.

According to Reporters Without Borders, some 20 journalists were arrested while covering the protests. Among those still in custody is Dzmitry Galko, who blogs for RFE/RL's Belarus Service.

written by Claire Bigg, based on RFE/RL reports