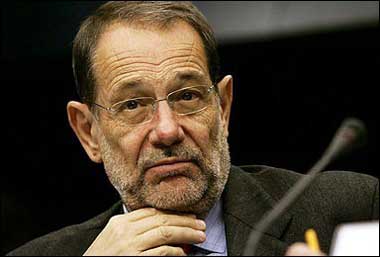 Do you know what to do with Belarus?

Let me first note how much we appreciate our very close European Union – Ukraine cooperation on policy towards Belarus. Belarus is an important country for both of us and we both hope to see concrete steps taken towards democracy. This would be good for the Belarusian people, but also the region as a whole.

European Union policy on Belarus remains two-pronged: we have put in place restrictive measures targeted at individuals responsible for electoral misconduct and abuse, but we are also open to engaging with a broad range of counterparts, from civil society to the authorities. The Union has sent a clear message that it would be ready to extend to Belarus all the benefits of the European Neighbourhood Policy. It is also true that Minsk would be ready to work with the European Union on fields such as energy and transport. However, concrete cooperation needs to be based on shared values. As long as Belarus is not willing to take the necessary steps  to respond to our concerns, for instance the freeing of all political prisoners, such cooperation is not possible.


We would all benefit from closer cooperation. Both the European Union and Ukraine have followed closely developments in the oil and gas relationship between Russia and Belarus. We have seen certain complications in the past year. In this context, we have called for transparent energy relations between the parties, in the same manner as we did during the gas crisis between Ukraine and Russia, in early 2006. All of us share concerns relating to energy security. However, the situation in Belarus unfortunately prevents us from concrete cooperation in the field of energy.

Full text of the interview is available here: http://www.consilium.europa.eu/ueDocs/cms_Data/docs/pressdata/en/sghr_int/95968.pdf
Copyright © 1994-2007. "Zerkalo nedeli" All rights reserved.